State Charity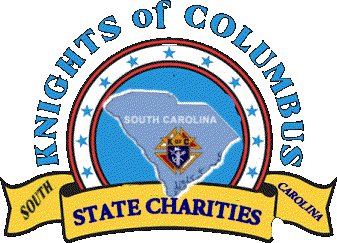 The South Carolina State Council is committed to the institution and promotion of the principles of the Knights of Columbus as set forth by our founder Fr. Michael J. McGivney. These principles consist of Charity, Unity, Fraternity and Patriotism. 
The State Council of the Knights of Columbus has a long and proud history of raising funds and distributing Grant monies to worthwhile Charities within the State of South Carolina. With the advice of the Directors of the charitable fund, the State Deputy will make the final commitment on which charities receive grants. The Directors of the Charity fund consist of the Immediate Past State Deputy, the State Secretary, the State Treasurer, the State Advocate and the State Warden lead by the current State Deputy.
The State Council recognizes that the charitable needs of the State of South Carolina are as diverse and dynamic as the people who live here. As such, the grant money given out each year cannot be categorized or predetermined; we rely on the member Knights from around the state to submit requests to their Grand Knight to be forwarded on to the State Council in a timely and organized fashion. 
State Charity grant consideration can be submitted from the beginning of December until the end of March when the Directors meet to assign the funds to the respective charities.
State Charities Board of Directors

Paul V. Burchell, SD
Board Chairman
Jeffrey M. Crouch, SS
Director
Keith A. Kingren, ST
Director
Sherrill E. Wilcox, SA
Director
Christopher Hildtich, SW
Director
Daniel E. Barton, IPSD
Director
Downloads